Even with years of Country Club fine dining experience and a career serving as a culinary instructor, Parkside Manor residents have taught Executive Chef and Dining Room Manager, Jesus Cruz, a thing or two about home-cooked goodness! From parmesan-encrusted tilapia with lemon risotto . . . to pork chops with apple gravy . . . to stuffed peppers and a beloved "secret recipe" meatloaf, Chef Jesus cooks up praises from residents who love his delicious home-style food.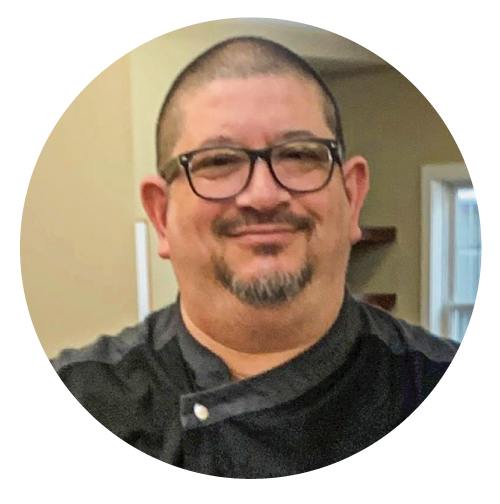 "I try to make something the residents enjoyed making or eating at home – nothing too fancy, but something that tastes great and looks good too," says Chef Jesus, who believes people "eat with their eyes."
Chef Jesus and his team prepare three made-from-scratch, nutritionally balanced meals a day including:
Continental and hot breakfast
Lunch (main meal of the day) served restaurant-style
Dinner (lighter meal) served restaurant-style
All the Parkside soups are homemade, as are the entrees and sauces, and the desserts (oh, the desserts!), right down to the apple pie a la mode, are also made from scratch. In addition to the featured entrée, each meal offers second and third options as well, so residents always have a choice.
Down-Home Hospitality
Chef Jesus' special touch extends beyond the kitchen and into the dining room where he is often found visiting with residents knowing that his food and hospitality feeds the soul as well. "I like to make sure that everyone is happy, and I gladly accommodate their preferences." In fact, Chef Jesus makes his fried chicken according to one resident's personal time-honored recipes (the secret is the buttermilk batter!).
Late Night Munchies
And, last but not least, are the snacks and beverages that are served between meals per request. Plus, the dining team is sure to stock the fridge with yogurt, sandwiches, and juice cups in case a resident has a hankering for a late-night snack!